… Admin / September 6, 2023 / Photo Credit: AboutUttarakhand.com
Patolea

A culinary masterpiece that masterfully combines history, culture, and the art of cuisine, patolea hails from the seaside paradise of Goa. A fascinating glimpse into the heart of Goan tradition, this sweet dish has its roots in Konkani celebrations. Patolea, a sweet rice dumpling covered in aromatic turmeric leaves, is a representation of the region's verdant surroundings and the dedication and time required to create it. A symphony of tastes, including those of freshly shredded coconut, jaggery, and cardamom, permeate the soft rice combination and induce feelings of both nostalgia and jubilation.
Patolea is an intricate dish that depicts the dynamic between family members when they get together to exchange recipes, stories, and memories over a shared meal. The dumplings get their distinctive flavor and color from being steamed in turmeric leaves, which is a sign of good fortune and vitality. Patolea, a traditional meal served in Goa, is a reflection of the state's strong sense of community and respect for its history, since it is served at celebrations such as Ganesh Chaturthi. Visitors and residents alike are encouraged to engage in this lovely rite and sample the treasured tastes that characterize Goa's cultural tapestry, as each mouthful echoes the memories of generations past.
Origin: Goa, India
Category: Patolea is a Goan Vegetarian Snack/Dessert which is considered Dessert
Ingredient: Turmeric Leaves, Jaggery, Rice Flour, Coconut are treated as main ingredients for this recipe. Other ingredients used are Jaggery, Cardamom, Turmeric Leaves
Time and Flavour: This recipe takes approx 1-2 hours and the flavour is Sweet and Aromatic
Nutritional Information: Patolea contains 278 kcal calories per 100 g serving. This serving contains 9 g of fat, 3 g of protein and 50 g of carbohydrate. The latter is 2 g sugar and 2 g of dietary fiber, the rest is other nutritional component. [ These values may vary based on ingredients used and its quantity ]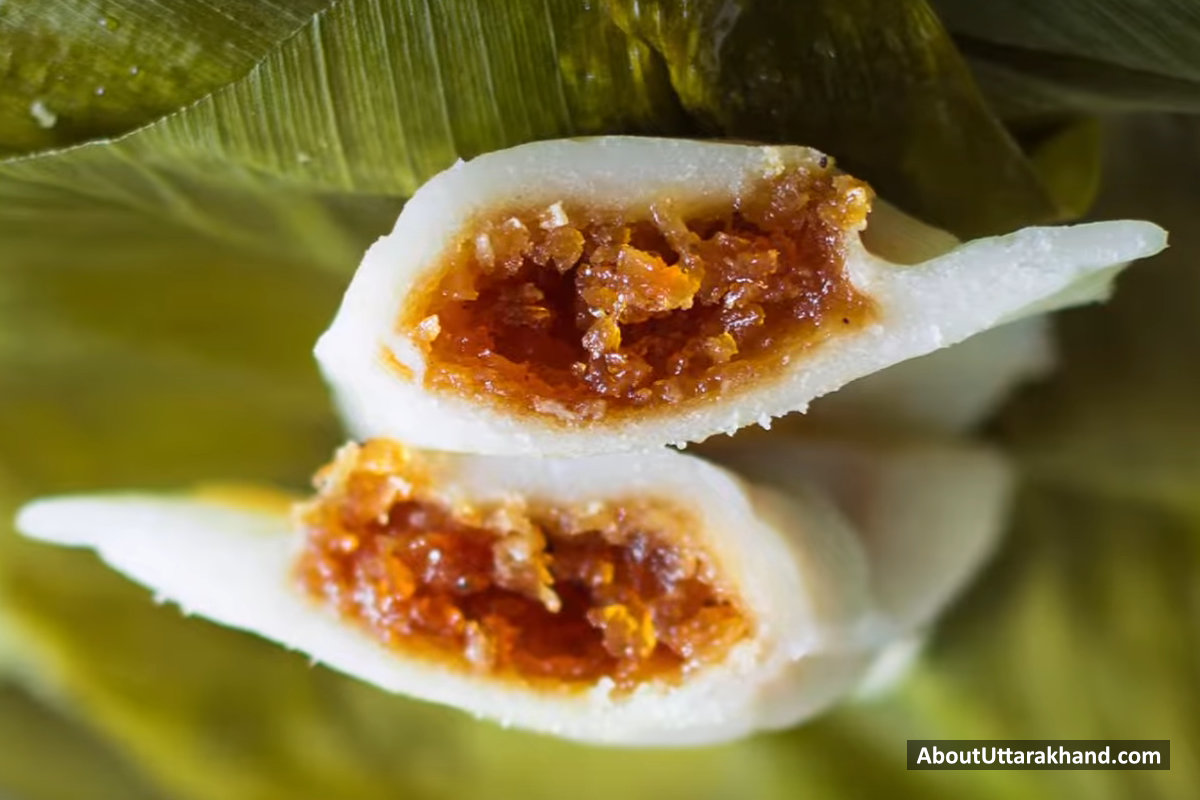 Photo Credit: AboutUttarakhand.com
Details

Patolea, a cherished Goan dessert, is a culinary gem that combines the flavors of rice, jaggery, and coconut in a unique and delightful way. This sweet dish is typically made during special occasions and festivals, reflecting Goa's rich culinary traditions.
The preparation of Patolea involves crafting a filling from a mixture of freshly grated coconut, jaggery (unrefined cane sugar), and sometimes cardamom for added fragrance. This mixture is then spooned onto specially prepared rice dough sheets, which are fashioned using turmeric leaves.
Once the filling is placed on the leaf, the dough is carefully folded to encase the coconut-jaggery mixture, creating a neat and compact package. These parcels are then steamed, allowing the flavors to meld while the rice dough becomes tender.
The turmeric leaves not only impart a subtle aroma but also lend a lovely hue to the dessert. As the Patolea steam, they absorb the fragrance of the leaves and the sweetness of the filling, resulting in a unique taste that captures the essence of Goan festivities.
Patolea is a treat that blends traditional flavors with the artistry of Goan culinary techniques. Its delicate sweetness and intricate preparation make it a treasured dish that continues to enchant locals and visitors alike, providing a glimpse into the heart of Goan culture and cuisine.
Ingredients

Turmeric Leaves [ हल्दी की पत्तियाँ ], 6-8
→ Washed And Dried.
Rice [ चावल ], 1 Cup
→ Soaked.
Coconut [ नारियल ], 1/2 Cup
→ Grated.
Jaggery [ गुड ], 1/2 Cup
→ Grated.
Cardamom Powder [ इलायची चूर्ण ], 1/2 Teaspoon

Clarified Butter [ घी ], As desired
→ To Be Used For Greasing.
Salt [ नमक ], As desired
→ Adjust To Taste.
Banana Leaves [ केले की पत्तियाँ ], As desired
→ Washed And Dried.
Water [ पानी ], As desired

.
Method for preparing Patolea

Wash the rice and let it soak in water for about two to three hours.
Make a smooth batter from the soaked rice. The texture should be about the same as dosa batter.
Grate the coconut and sugar and then mix them with the cardamom powder in a bowl. This is what will go inside the Patolea.
Take a leaf of turmeric and heat it gently over a flame for a few seconds to soften it. Don't let the leaf catch fire.
Spread a thin layer of the rice batter on the back of the leaf.
On one end of the leaf, put a spoonful of the coconut-jaggery mixture on top of the rice batter.
When you fold the leaf over the filling, it makes a form like a box.
Do the same thing with the rest of the leaves, rice batter, and filling.
Use ghee to grease the banana leaves.
Put a folded turmeric leaf package on top of a banana leaf that has been greased.
Fold the banana leaf over the box of turmeric leaves to make a cover.
Use a string made from the banana leaf or kitchen twine to tie the package shut.
The Patolea packets need to be steamed in a steamer for about 20 to 25 minutes, or until the rice batter is cooked all the way through.
Let the Patolea packets cool down a bit after they are done cooking before taking them out of the paper.
Patolea can be served hot or at room temperature.
Health Benefits

Nutritionally-Dense – Patolea is created from rice and coconut, and it contains carbs, good fats, and fiber.
Moderation and Celebration – Patolea is often consumed at festivals and special events, promoting moderation and celebration.
Cultural Delight – Patolea is a classic Goan sweet that connects to cultural traditions as well as culinary heritage.
Antioxidant-Rich – Patolea contains antioxidants and minerals from coconut and jaggery.
Occasional Treat – Because jaggery is used, enjoy patolea in moderation as a sweet treat.
Although these components may offer some health benefits, it's crucial to keep in mind that everyone's experience may vary, and they must be consumed in moderation as a part of a balanced diet. If you have any specific health issues or concerns, it's recommended to speak with a healthcare provider.
To Conclude

In conclusion, Patolea emerges as a true testament to Goa's culinary craftsmanship, weaving together history, culture, and flavors in a delicate embrace. This sweet treat, carefully wrapped in turmeric leaves, carries the whispers of tradition passed down through generations. Ground rice and coconut, gently sweetened with jaggery, form a symphony of textures and tastes that paint a picture of celebration and togetherness. Patolea's preparation, an intricate dance between age-old techniques and modern sensibilities, embodies the essence of Goan cuisine's evolution. As each leaf-wrapped parcel is unwrapped, the aroma and flavors transport us to a time when culinary heritage was a communal experience. Through Patolea, we not only savor a delectable dessert but also relish the stories, bonds, and the cherished moments that have been nurtured within Goa's warm embrace.