… Post Admin / March 18, 2023 / Photo Credit: aboutUttarakhand.com
Pithoragarh District

Pithoragarh District in the Indian state of Uttarakhand reveals as a country of stunning landscapes, spiritual retreats, and thriving cultural legacy under the shadow of the towering Himalayas. Known as "Miniature Kashmir," this charming region is a great place to see the peaceful natural scenery, visit old religious sites, and learn about the vibrant culture of the area. Pithoragarh's untouched charm, spiritual draw, and ageless mystery entice travelers to explore it and be changed by the experience.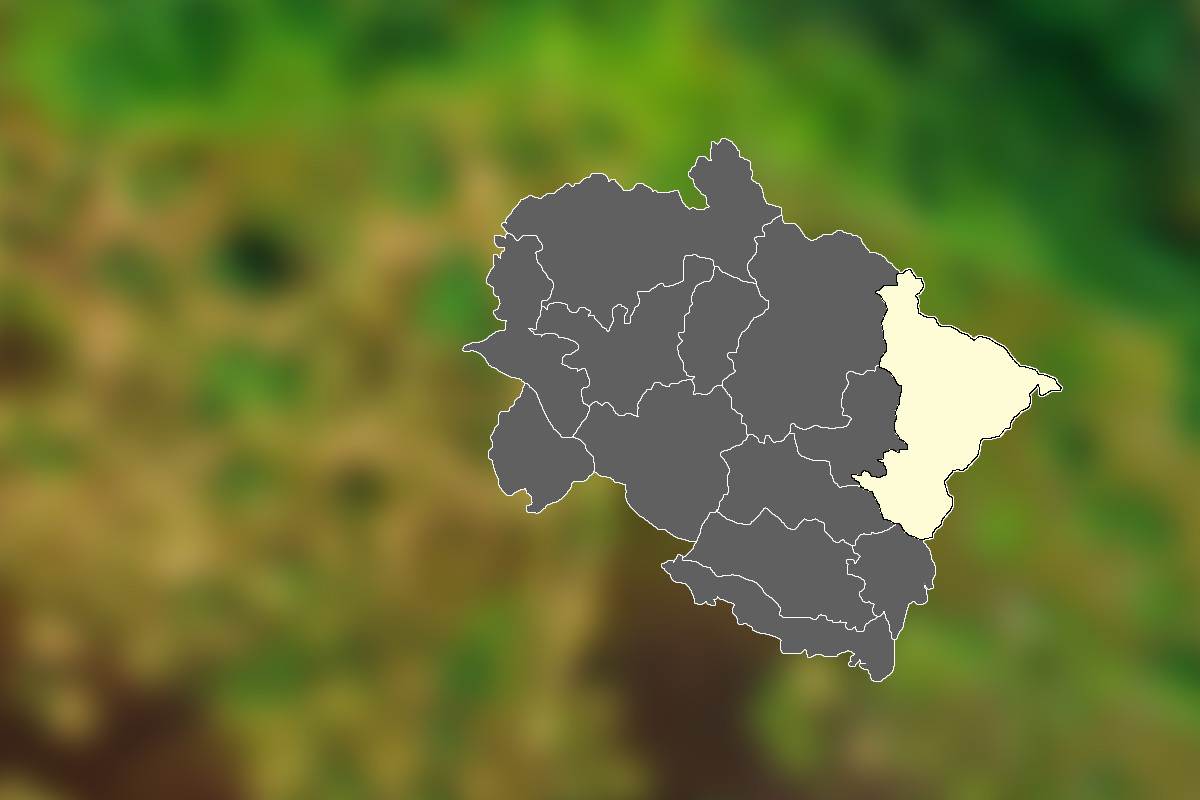 Photo Credit: aboutUttarakhand.com
Details

Beautiful scenery can be seen all throughout the Pithoragarh District, which is known for its towering mountains, verdant valleys, and gushing rivers. The area has a wide variety of habitats because of its wide variance in height, from around 500 meters (1,640 feet) to over 7,000 meters (23,000 feet) above sea level. As a result, Pithoragarh is home to a wide variety of plant and animal life, making it a dream destination for hikers and explorers.
The Panchachuli Peaks are a cluster of five snow-capped mountains that stand out against the rest of the terrain in Pithoragarh. These mountains are more than just a sight to see; they also have significant spiritual meaning to the locals. Stunning alpine panoramas and glacier landscapes await you on the Panchachuli Base Camp walk, where you may get up close to these towering giants.
Ancient temples dot the landscape of Pithoragarh District, testifying to the area's long history of religious practice. The Kapileshwar Mahadev Temple is a holy place where worshippers go to be blessed and find peace. The Chandak and Jhulaghat temples also provide insights on the religious makeup of the area.
In the Pithoragarh District, you'll find the charming hamlet of Munsiyari, often known as the "Little Kashmir," which is a jumping-off point for high-altitude hikes and untouched natural beauty. Munsiyari is a paradise for hikers and outdoor enthusiasts because of its picturesque landscape of snow-capped mountains, lush meadows, and towering woods. Many visitors to the mountains visit the Milam Glacier and the Nanda Devi Temple.
Pithoragarh District, home to the holy Kailash Mansarovar, is dear to the hearts of pilgrims making the journey to the holy mountain. Mount Kailash and Lake Mansarovar, holy sites in Hinduism, Buddhism, and other faiths, may be reached from this area by a variety of hikes and itineraries.
Pithoragarh District is a cultural crossroads, home to a wide variety of ethnic groups with their own unique customs and beliefs. Festivals like as Holi, Diwali, and Makar Sankranti are observed with great enthusiasm in this area, highlighting the local culture via performances of traditional music, dance, and rituals. The cultural vitality of the area is enhanced by the local markets, where one may sample the wares of artisans and try dishes prepared with ingredients from the area.
Abundant vegetation and animals contribute to Pithoragarh's already stunning landscape. The Askot Wildlife Sanctuary is a paradise for environmentalists and wildlife lovers because of the wide variety of animals that live there. The diverse ecosystems and clean landscapes of the sanctuary make it an important location for wildlife.
The border towns of Jauljibi and Dharchula between India and Nepal provide interesting insights into the cultural exchanges that have defined this part of the world. The Jauljibi Fair is a bustling commercial and cultural event that brings together people from India and Nepal at the meeting point of the Gori and Kali rivers. Dharchula's tranquil beauty and old temples beckon curious travelers to learn more about the city's religious and cultural heritage.
As Pithoragarh District becomes more well-known as a tourist destination, initiatives are being launched to encourage visitors to travel in a sustainable manner. Efforts are being made to protect the district's pristine ecology and cultural history, including conservation of natural resou
Origin And History

Over the course of its history, the kingdom of Pithoragarh was controlled by a great number of dynasties and rulers. According to historical accounts, Prithviraj Chauhan formerly held power in this region. The Pala Dynasty established their rule in 1364. From the beginning of the 14th century to the end of that century, the Pala dynasty ruled over Pithoragarh. According to the annals of history, the Brahm dynasty of Nepal was established in the year 1420, however it did not last for very long.
Geographic Details
District: Pithoragarh District is located in the [NA] district.
City: Pithoragarh District is in the city [NA].
Elevation: Pithoragarh District is located at an altitude of [Not Available] feet.
Latitude: Pithoragarh District has a latitude of 29.5804 degrees.
Longitude: Pithoragarh District has a longitude of 80.2197 degrees.
How To Reach Pithoragarh District?

By Road:
Pithoragarh has good access to roads. It is close to other towns and cities in Uttarakhand, thanks to its location on National Highway 309A. From towns like Delhi, Dehradun, and Tanakpur, you can go to Pithoragarh by bus, car, or taxi. The mountains and valleys are beautifully seen on the road. Road travel from Delhi to Pithoragarh typically requires 10 to 12 hours, depending on the starting place and distance.
By Train:
Tanakpur railway station, about 150 km distant, is the closest rail hub to Pithoragarh. Major Indian cities may be reached from Tanakpur easily. Between Tanakpur and places like Delhi and Kolkata, a number of trains, including overnight trains, run. To go to Pithoragarh from Tanakpur, you can either rent a taxi, ride in a shared taxi, or take a bus. Tanakpur to Pithoragarh is accessible.
By Air:
Naini Saini Airport, which is situated in Pithoragarh, is the closest airport to the city. The number of flights to Naini Saini Airport is constrained, and they might not run all year. As an alternative, you can take a plane to Pantnagar Airport, which is around 250 km from Pithoragarh. Better regular flight connections from India's largest cities are available at Pantnagar Airport. You can take a pre-paid cab or rent a taxi to get to Pithoragarh from Pantnagar. It takes roughly 6-7 hours to travel by road from Pantnagar to Pithoragarh.
What Is The Best Time To Visit Pithoragarh District?

The best times to visit Pithoragarh are in the months of April through June and September through November. The spring season (April–June) is perfect for sightseeing, outdoor sports, and hiking because to the pleasant weather, flowering flora, and clear vistas of the Himalayas. Enjoy mild weather, beautiful sky, and a peaceful atmosphere by visiting during the post-monsoon months (September to November).
5 Places Around Pithoragarh District

Chaukori: Nestled at an altitude of approximately 2,010 meters, Chaukori is a quaint hill station known for its breathtaking views of the Himalayan peaks. The town is surrounded by lush tea gardens, making it a perfect destination for nature lovers and those seeking tranquility. Chaukori offers panoramic vistas of Nanda Devi, Panchachuli, and Trishul mountains, along with the serene beauty of the valleys below. The clear skies of Chaukori also make it an excellent spot for stargazing and enjoying the celestial wonders of the night.
Munsiyari: Often referred to as the 'Little Kashmir,' Munsiyari is a picturesque town located at the base of the Panchachuli peaks. This destination is a paradise for trekkers and adventure enthusiasts, as it serves as a gateway to several trekking routes leading to glaciers, meadows, and alpine lakes. The Milam Glacier trek is particularly popular, offering a glimpse of captivating landscapes and unparalleled natural beauty. Munsiyari is also home to the Johar Valley, which is steeped in folklore and offers a glimpse into the lives of the local communities.
Dhwaj Temple (Dhwaj Mandir): Perched atop a hill overlooking Pithoragarh, the Dhwaj Temple is dedicated to Lord Shiva. The temple's architecture and the breathtaking views it offers make it a prominent attraction. The scenic drive up to the temple, through dense forests and winding roads, adds to the allure of the journey. From the temple premises, visitors can enjoy panoramic vistas of Pithoragarh town, the Kumaon region, and the surrounding mountains.
Askot Wildlife Sanctuary: For wildlife enthusiasts, the Askot Wildlife Sanctuary is a haven of biodiversity. The sanctuary is home to a variety of flora and fauna, including snow leopards, Himalayan tahrs, musk deer, and numerous bird species. The lush forests, alpine meadows, and gushing streams create a diverse ecosystem. The sanctuary also holds historical significance, with the Askot Musk Deer Sanctuary established here to protect the endangered musk deer.
Kapileshwar Mahadev Temple: Located around 3 kilometers from Pithoragarh, the Kapileshwar Mahadev Temple is dedicated to Lord Shiva and is nestled amidst lush green surroundings. The temple is situated in a cave, adding an element of mystique to the visit. The journey to the temple involves a short trek through a dense forest, offering a refreshing escape into nature. The natural beauty, tranquility, and spiritual aura of the Kapileshwar Mahadev Temple make it a serene and captivating destination.
Advisory

It is highly advised that before setting off on any trip; you take the time to carefully research the most recent travel information that is presently available, such as the current condition of the roads and the expected arrival times of planes and trains. Doing so can help you avoid being caught off guard and ensuring that your trip goes off without a hitch, regardless of how long or tough it may be. If you put in the time and effort to do your homework before leaving, you may better organize yourself for the trip and pack all the necessary items.
To Conclude

Finally, Pithoragarh District has a fascinating mixture of Himalayan splendor, religious centers, and ethnic variety. It's a call to adventurers who want to tour the globe, experience other cultures, and learn about the mountains and their traditions. Pithoragarh District, with its stunning mountain peaks, peaceful temples, and plethora of options for discovery, provides a life-altering adventure that touches the heart and spirit and leaves an everlasting impact on those who are lucky enough to experience it.
Posts Related To Pithoragarh District