… Post Admin / March 18, 2023 / Photo Credit: aboutUttarakhand.com
Chamoli District

Located in the heart of Uttarakhand, India, Chamoli District is a living witness to the spiritual history and natural splendor of the Garhwal Himalayas. Beautiful scenery, historic temples, and a plethora of cultural offerings come together in perfect harmony in this region. The majestic mountains of Chamoli, together with its many holy sites and peaceful atmosphere, entice curious travelers in search of adventure, enlightenment, and awe-inspiring scenery.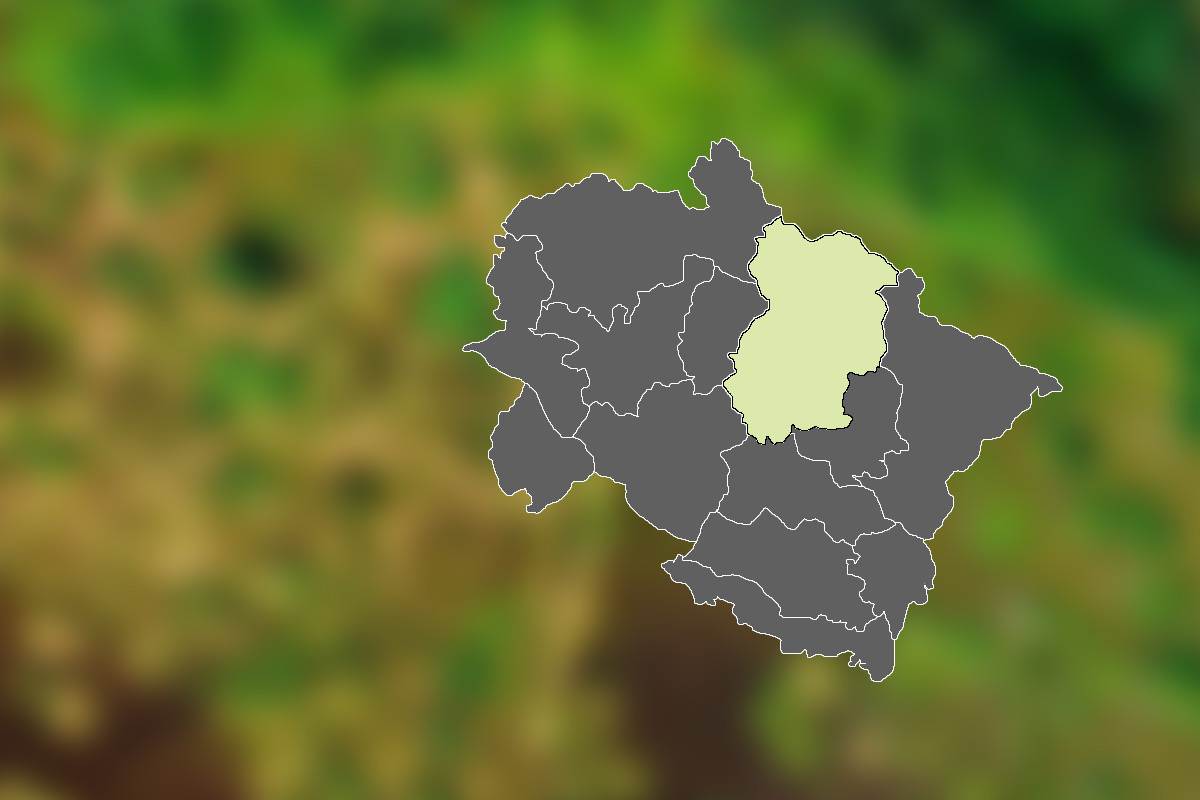 Photo Credit: aboutUttarakhand.com
Details

Geographical Wonders: The Chamoli District is home to some of the Indian Himalayas' tallest and most impressive peaks. Nanda Devi National Park is located there, and the mountain itself is the second-highest peak in India and a UNESCO World Heritage Site. Located between around 2,600 and 23,000 feet above sea level, the territory is home to a wide variety of habitats and microclimates because to its varying elevation. Because of this, Chamoli has a wide variety of plant and animal life, making it a paradise for anyone interested in biodiversity and the outdoors.
The Chamoli District is a haven for those seeking enlightenment, since it is home to several religious temples and places. Pilgrims go from all over the world to visit the Badrinath Temple, which is devoted to Vishnu. The lofty structure and sacred air of the temple inspire feelings of awe and veneration. The adjoining town of Mana, often regarded as the very last settlement before entering India, contributes to the region's rich spiritual history.
The Valley of Flowers in Chamoli is the region's most famous attraction. This brilliant flower paradise has drawn tourists and nature lovers for decades. During the summer, this alpine valley, which is located at an elevation of around 3,500 meters (11,500 feet), explodes into a kaleidoscope of colours. The unique and indigenous plant species that call the Valley of Flowers National Park home create a bizarre and fascinating setting, as if one had stepped into a painting.
Joshimath and Auli: Joshimath is a jumping off point to several different pilgrimage destinations and hiking routes. It is also the starting point for trips to the Auli Ski Resort, a favorite of skiers and snowboarders. Skiing, snowboarding, and snowshoeing enthusiasts will find Auli's snowy slopes and vistas of the surrounding peaks to be paradise.
Stunning vistas of the Nanda Devi range and nearby peaks may be seen on the Kuari Pass Trek, which is a remarkable excursion in and of itself. This hike is well-known for its beautiful scenery, which varies from dense woods to open meadows to breathtaking vistas. The walk is a great way for both novice and seasoned hikers to see the stunning landscapes of the Chamoli District.
The Chamoli District is a living museum of past and present culture. Colorful processions, traditional dances, and religious rituals are just some of the highlights of local fairs and festivals. Visitors may experience firsthand the local culture and join in the fun of festivals like Holi, Diwali, and Basant Panchami.
Chamoli District is home to several historic pilgrimage routes that have been used for hundreds of years. The Hemkund Sahib Yatra is a trip of spiritual importance and scenic beauty, leading to a pristine glacial lake and a venerated Sikh temple. Other famous pilgrimage sites that combine spirituality and stunning scenery are the temples of Tungnath and Madhyamaheshwar.
Chamoli District is easily accessible by road, making it a popular destination for tourists looking to see Nepal's natural splendor. The area has a wide variety of places to stay, from cheap inns to luxurious resorts, so tourists may choose a place to stay that fits their needs and budget.
As Chamoli District grows in popularity as a tourist destination, there is a corresponding rise in interest in conservation and sustainable travel methods. The natural beauty, biodiversity, and cultural history of the area are al
Origin And History

Several researchers have concluded that this area was the birthplace of the Aryan people. It is believed that Khasa entered Garhwal from Kashmir, Nepal, and Kuman about 300 B.C. Conflict between the invaders and the natives escalated as a result of this event. In order to protect themselves, Indians built small forts (called 'Garhi'). The indigenous were ultimately defeated, and Khasa eventually acquired possession of the forts.
Kshatiya deposed the Khasa and became the new rulers of this land once they had conquered it. Only 52 out of the hundreds of Garhi that the Garhwal possessed were permitted. The Katyura dynasty of Garhwal can trace its lineage back to its founder, Kartikeypur Vashudev Katyuri, who reigned for hundreds of years. Kshatriya general Kantura Vashudev established his government in northern Garhwal, with joshimath as his seat of power. While visiting Garhwal, Aadi-Guru Sankaracharya established one of the four great Peeths, known now as Jyotrimath. Some of India's other major cities including Dwarika, Puri, and Sringeri are also called Varsh.
He also brought the Lord Badrinath idol back from hiding in Narad-Kund because of the Buddhas. Vaidic cult ethicists started making pilgrimages to Badrinath after this.
Geographic Details
District: Chamoli District is located in the [NA] district.
City: Chamoli District is in the city [NA].
Elevation: Chamoli District is located at an altitude of [Not Available] feet.
Latitude: Chamoli District has a latitude of 30.315 degrees.
Longitude: Chamoli District has a longitude of 79.8003 degrees.
How To Reach Chamoli District?

By Road:
Chamoli has good access to roads. To get to Chamoli, you can take a bus or a taxi from a big city like Rishikesh, Haridwar, or Dehradun. The National Highway 58 runs through the town, connecting it to other areas of Uttarakhand and other states. The drive to Chamoli is beautiful, with lovely vistas of the mountains, forests, and rivers.
By Train:
The railway station in Rishikesh, which is 202 kilometres distant, is the closest one to Chamoli. Major Indian cities are easily accessible to Rishikesh. To get to Chamoli from Rishikesh, use a bus or a taxi. The road from Rishikesh to Chamoli travels through scenic terrain and alongside the Alaknanda River.
By Air:
Jolly Grant Airport in Dehradun, located about 222 kilometres from Chamoli, is the closest airport. To get to Chamoli from the airport, use a bus or a taxi. Mountains and valleys may be seen during the drive from Dehradun to Chamoli.
What Is The Best Time To Visit Chamoli District?

The months of April through June, as well as September through November, are ideal for sightseeing in Chamoli. The location is ideal for those interested in nature and outdoor activities throughout the spring (April–June) because of the abundance of blossoming flowers and mild temperatures. The post-monsoon season (September to November) is the best time to visit Chamoli for hiking, climbing, and just taking in the region's breathtaking scenery thanks to its clear sky and mild temperatures.
5 Places Around Chamoli District

Valley of Flowers: The Valley of Flowers is a UNESCO World Heritage Site and a true natural wonder nestled in the Garhwal Himalayas. This vibrant valley comes to life during the monsoon season, bursting with a riot of colors as thousands of flowers bloom across the landscape. The valley is home to numerous species of wildflowers, some of which are endemic to the region. Trekking to the Valley of Flowers is a rewarding experience, offering breathtaking views of snow-capped peaks and the opportunity to witness the diverse flora and fauna that inhabit the area. The valley's ethereal beauty and unique ecosystem make it a must-visit destination for nature lovers and photographers.
Auli: Auli is a popular hill station and skiing destination located at an altitude of around 9,500 feet. Known for its pristine slopes and panoramic views of the Himalayas, Auli attracts adventure enthusiasts and nature lovers alike. During the winter months, it transforms into a paradise for skiers, offering well-groomed slopes and modern skiing facilities. The Auli Ropeway, one of the highest cable cars in Asia, provides stunning vistas of the surrounding peaks. In the summer, Auli's meadows become a tranquil escape, perfect for trekking and enjoying the alpine beauty.
Joshimath: Joshimath serves as a gateway to various pilgrimage destinations and trekking routes. It is an important center for spiritual activities and is home to the revered Narasimha Temple and the Shankaracharya Math. The town's strategic location makes it a base for pilgrims heading to Badrinath, one of the Char Dham pilgrimage sites. The trek to the sacred Hemkund Sahib, a high-altitude glacial lake surrounded by mountains and lush meadows, originates from Joshimath. The town's serene ambiance, rich history, and spiritual significance make it a destination that offers both tranquility and adventure.
Badrinath: Badrinath is one of the holiest pilgrimage sites in Hinduism, situated on the banks of the Alaknanda River. It is dedicated to Lord Vishnu and is part of the Char Dham Yatra. The Badrinath Temple, with its iconic architecture and spiritual aura, draws thousands of devotees and travelers each year. Surrounded by lofty peaks, the town is a visual spectacle, especially during the evening aarti ceremony at the temple. The Tapt Kund hot springs and the Mana Village, believed to be the last inhabited village before the Indo-Tibetan border, add to the unique appeal of Badrinath.
Chopta: Chopta, often referred to as the 'Mini Switzerland of India,' is a serene and picturesque destination nestled in the lap of the Garhwal Himalayas. It serves as the base for the trek to Tungnath Temple, the highest Shiva temple in the world. The Chandrashila peak, accessible from Tungnath, offers breathtaking panoramic views of the Himalayan ranges. Chopta is surrounded by dense forests and meadows, making it an ideal spot for camping, birdwatching, and experiencing the tranquility of nature. The region's pristine beauty and serene ambiance attract trekkers, nature enthusiasts, and spiritual seekers.
Advisory

It is highly advised that before setting off on any trip; you take the time to carefully research the most recent travel information that is presently available, such as the current condition of the roads and the expected arrival times of planes and trains. Doing so can help you avoid being caught off guard and ensuring that your trip goes off without a hitch, regardless of how long or tough it may be. If you put in the time and effort to do your homework before leaving, you may better organize yourself for the trip and pack all the necessary items.
To Conclude

In sum, the Chamoli District is a breathtaking display of spiritual beauty and the grandeur of nature. It's an open invitation to see the stunning natural beauty of the Himalayas, learn about local culture, and try some exciting new activities. Chamoli District's spiritual importance, breathtaking scenery, and rich cultural legacy make for a life-altering adventure that leaves an unforgettable impact on those who are lucky enough to take part in it.
Posts Related To Chamoli District