… Support WPcompress / July 31, 2023 / Photo: AboutUttarakhand.com
1501 Inspiring Hindu Baby Boy Names
If you're looking for Inspiring Hindu Baby Boy Names, your quest has come to the right place.
Hinduism is one of the major religions of the world and is mainly practiced in India and Nepal. With a variety of beliefs, traditions, and ceremonies, this religion is quite diverse. The cultural practices of Hinduism are diverse, and there are a multitude of baby names with profound meanings to choose from.
Hindu infant boy names often have significant spiritual and epoch-related associations. The names come from gods, goddesses, sages, and other noble individuals as well as from old literature like the Vedas, Puranas, and Epics. Naming a baby with significant meaning and significance is a customary practice among Hindus, believing that it affects the child's character and future.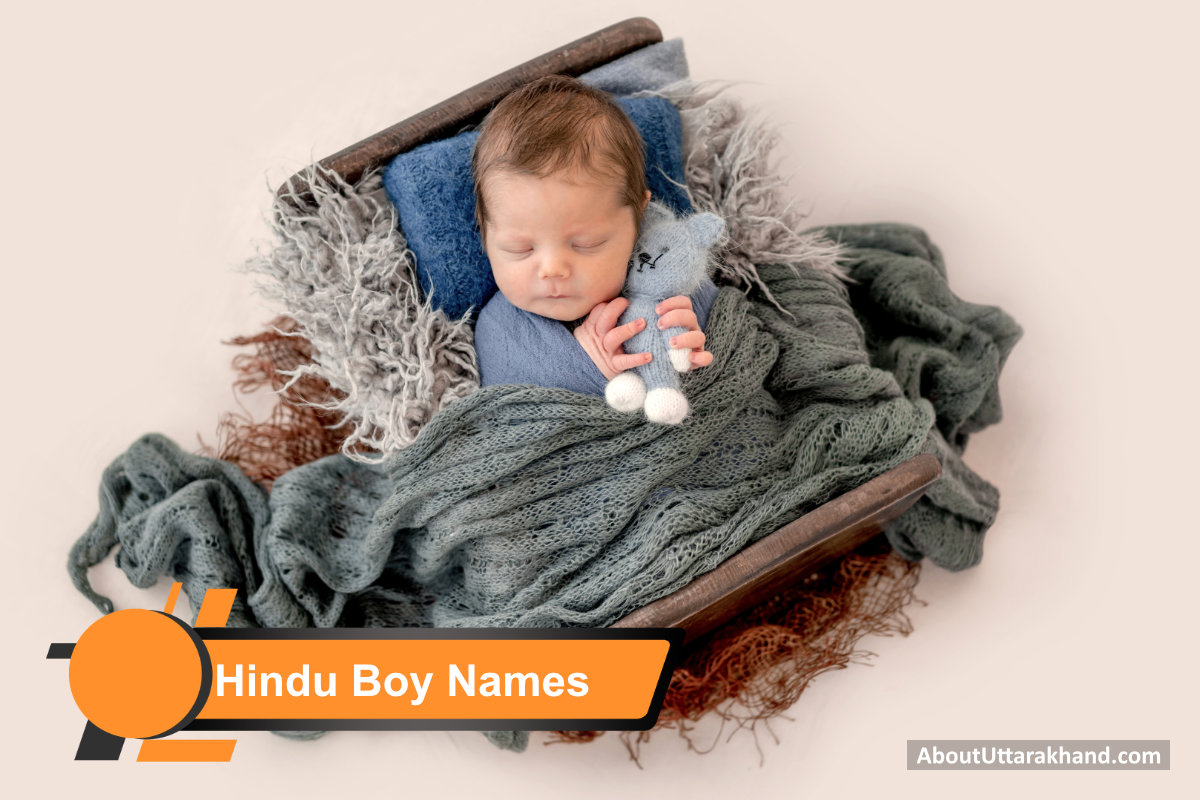 Photo: AboutUttarakhand.com
Hindu Baby Boy Names Alphabetically
This blog section offers a fascinating collection of names with strong ties to Hindu heritage, culture, and spirituality. This collection serves as a monument to the vast range of Hindu naming customs, providing a wide range of names that resonate with significant historical resonance and deep meanings.
The collection spans centuries and linguistic nuances, representing the complex essence of Hinduism. It includes ancient classics like Arjun, Krishna, and Rama as well as contemporary favorites like Aarav, Kian, and Yuvan. Each name has a special meaning, frequently derived from gods, mythology, virtues, or natural components.
Parents are able to choose names that are consistent with their cultural and religious values thanks to the alphabetical arrangement, which makes it simple to explore. These names represent virtues that are essential to Hindu beliefs, such as bravery, wisdom, devotion, and strength.
Parents continue the tradition of their Hindu heritage by giving their sons' names from "Hindu Baby Boy Names Alphabetically," creating a link between the past and present. This collection serves as a tribute to the Hindu traditions' ongoing influence and as a way to impart values and beliefs in the next generation while embracing the world's constant change.
In the end, this collection honors the value of cultural importance and linguistic artistry by giving families a meaningful method to pay tribute to their ancestry and welcome a new child into the world with a name that has depth and resonance.
Get the Hindu baby boy names alphabetically. Select the desired alphabet below:
A, B, C, D, E, F, G, H, I, J, K, L, M, N, O, P, Q, R, S, T, U, V, W, X, Y, Z.
Here are the Hindu Boy names starting with alphabet A:
Aadi
First, Important
Aadijay
First Victory, Initial Triumph
Aakash
Sky, Open space
Aarit
One who seeks the right direction, Eligible
Aarnav
Ocean, Sea
Aarush
First Ray of the Sun, Calm
Aarush
First Ray of the Sun
Aashman
Son of the Sun, Sky
Aayush
Long Life
Aayushmaan
One with long life, Blessed with longevity
Aayushman
Blessed with Long Life, Everlasting
Abhay
Fearless, Brave
Abhijeet
Victorious, One who has conquered
Abhimanyu
Legendary warrior, Arjuna's son
Abhinav
Novel, New, Innovative
Abhiraj
Fearless King, Regal
Abhishek
Ritualistic Bathing of Deities, Anointing
Adarsh
Ideal, Perfect
Adbhut
Wonderful, Amazing
Adhvait
Unique, Non-dual
Adit
Sun, Lord Shiva
Aditya
Sun, Son of Aditi (Hindu goddess)
Advait
Unique, One-of-a-kind
Advay
Unique, One without a second
Adwaita
Non-dual, Unique
Ahaan
Dawn, Sunrise
Akash
Sky
Akhil
Complete, Whole
Akshay
Indestructible, Immortal
Akshayakumar
Eternal, Indestructible, Immortal
Alok
Brightness, Light
Alokesh
Lord of Light
Aman
Peace
Amanat
Treasure, Trust
Amay
Boundless, Limitless
Ambar
Sky
Amey
Boundless, Limitless
Amish
Honest, Pure
Amit
Endless, Boundless
Amogh
Unerring, Invincible
Amol
Priceless, Invaluable
Amrish
Lord Indra
Amrit
Nectar, Immortal
Anagh
Sinless, Pure
Anand
Bliss, Joy
Anay
Compassionate, Caring
Anay
Lord Vishnu, Compassionate, Caring
Anik
Soldier
Anikait
Lord of the World, Belonging to Everyone
Aniket
Lord of the Home, Sheltered
Anirudh
Boundless, Grandson of Lord Krishna
Ankit
Conquered, Marked
Anmol
Priceless, Invaluable
Anmol
Priceless, Precious
Ansh
Portion, Part
Anshul
Radiant, Bright
Anshuman
Sun, Radiant, Lord Surya (Sun)
Anshuman
Radiant, Luminous
Anshumat
Illuminated, Glorious
Anuj
Younger Brother, Sibling
Aradhya
Worshiped, Revered
Arin
Mountain of Strength, Peaceful
Arjun
Bright, Shining
Armaan
Desire, Wish
Arnav
Sailing, Ocean
Arnav
Relating to the Ocean, Vast, Sea
Arnav
Ocean, Sea
Arpit
Dedicated, Surrendered
Arth
Meaning, Purpose
Arush
First Ray of the Sun
Arush
Calm, Serene
Aryan
Of Aryan descent, Noble
Aryan
Noble, Warrior
Ashish
Blessing, Benediction
Ashutosh
One who easily pleases, Lord Shiva
Ashwin
Light, Horse Tamer
Atharv
Knowledgeable, The Vedas
Atman
Soul, Self
Atul
Matchless, Incomparable
Avaneesh
Lord of the Earth, Lord Shiva
Avik
Brave, Fearless
Ayaan
Gift of God
Ayansh
Part of parents
Ayog
Meeting, Get-together
Ayush
Long Life
Ayushman
Blessed with Long Life
Baby Boy Names Based On Religion
Names are significant as they reflect parents' hopes, dreams, and aspirations for their child's future, as well as being their identification. This blog post takes you on a delightful journey into the enchanting realm of baby names, featuring a vast selection of options for both genders, such as elegant names for baby girls and charming names for baby boys.
We hope you enjoy reading through the names we've highlighted in this blog article. In order to ensure that the names' meanings are accurate and founded on genuine religious beliefs and understandings, we ask that you contact us if you come across any spelling errors or meanings that don't correspond to your faith. We'd be pleased to make any necessary updates to our database to ensure that it is completely correct and current. Furthermore, if you have any fresh name ideas that aren't already included here, we'd love to hear from you as well. Simply leave a comment below with your name and email address, and we'll try to add them.