… Admin / August 4, 2023 / Photo: AboutUttarakhand.com
1501 Adorable Christian Baby Girl Names
If you're looking for Adorable Christian Baby Girl Names, your quest has come to the right place.
Christianity is one of the religions, with a strong emphasis on the life, teachings, death, and resurrection of Jesus Christ. Christian infant Girl names, as well as names derived from them, are frequently inspired by biblical figures, saints, historical figures, and Christian traits. As a gesture of respect for their beliefs and practices, Christian families typically use these names because they have deep spiritual and religious significance.
Christian baby names frequently have deep meanings and are regarded to be a way to ask for heavenly guidance and blessings for the child's life. A Christian baby name is a significant decision for Christian families, one that is typically accompanied by prayers and reflection on the name's spiritual importance.
Through this blog spot we have made the efforts to list down the Christian baby names along with their meaning that are devoted to Christian culture and traditions.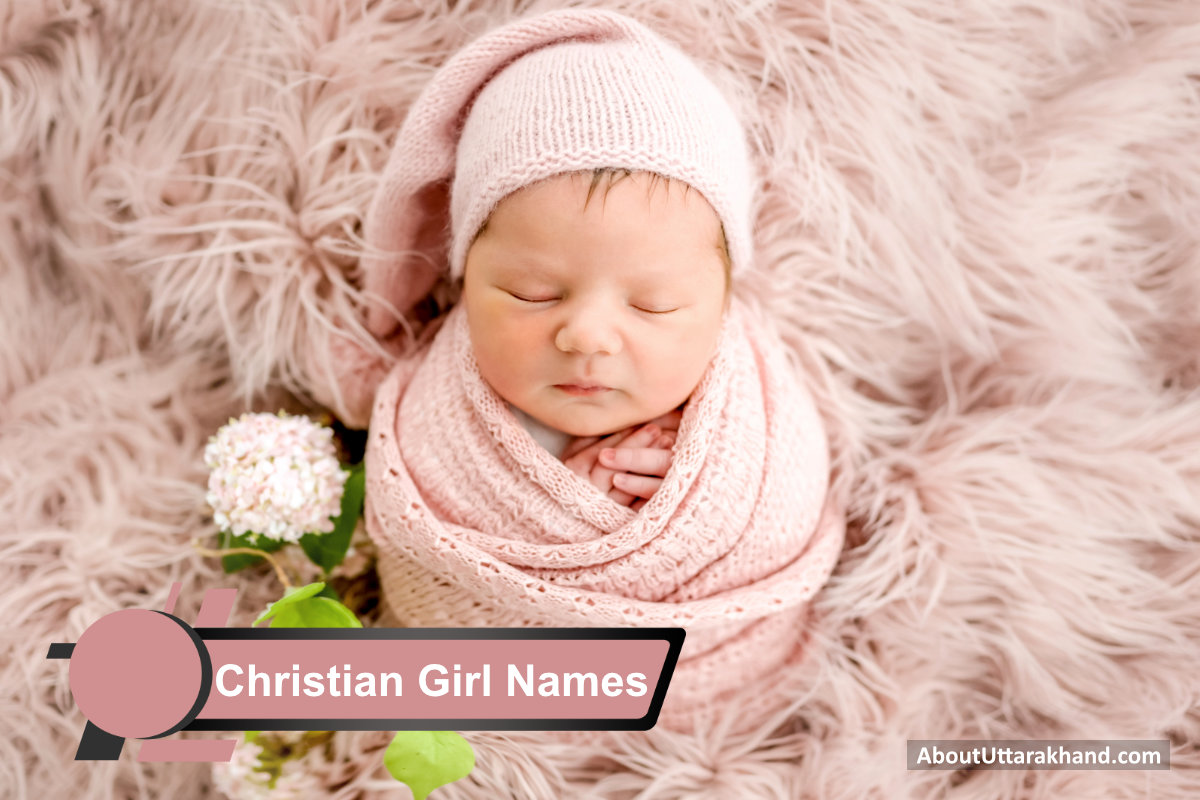 Photo: AboutUttarakhand.com
Christian Baby Girl Names Alphabetically
This section offers a broad range of names with Christian roots that represent faith, virtue, and classic style. This collection offers possibilities that have deep importance for families looking for names that resonate with their beliefs, reflecting the rich tapestry of Christian culture and values. This list presents a range of options that span several times and cultures, from the traditional grace of names like Abigail, Elizabeth, and Mary to the modern allure of Ava, Isabella, and Sophia.
Each name holds its own historical and religious significance, frequently being modeled after biblical characters, saints, or virtues. Grace and Faith, for example, represent fundamental Christian values, whereas Teresa and Catherine honor great saints. It is a helpful resource for expectant parents looking for a name that honors their beliefs and fits with their unique style because of the alphabetical format, which makes it simple to refer to.
The collection accommodates a variety of tastes, whether one is looking for a name that radiates power like Deborah, softness like Lily, or resilience like Naomi. Beyond only being beautiful in language, these names represent the virtues of love, hope, and dedication that are at the heart of the Christian ethos, passing along these ideals to future generations. In essence, "Christian Baby Girl Names Alphabetically" is a monument to both the profound influence names have in defining personality and character and the enduring legacy of Christian history.
Get the Christian baby girl names alphabetically. Select the desired alphabet below:
A, B, C, D, E, F, G, H, I, J, K, L, M, N, O, P, Q, R, S, T, U, V, W, X, Y, Z.
Here are the Christian Girl names starting with alphabet A:
Abigail
Father's joy
Abigail
Father's joy
Abree
Strong
Abrielle
God is my strength
Adaline
Noble
Adalyn
Noble
Adara
Noble, exalted
Addison
Child of Adam
Adelaide
Noble
Adeline
Noble
Adelyn
Noble
Adina
Delicate
Ainsley
One's own meadow
Alaina
Dear child
Alana
Precious
Alayna
Dear child
Alba
Dawn
Aleah
Rising
Alessia
Defender of mankind
Alexandra
Defender of mankind
Alexia
Defender of mankind
Alexis
Defender of the people
Alice
Noble
Alicia
Noble
Alina
Bright, beautiful
Alivia
Olive tree
Allegra
Joyful
Alondra
Defender of mankind
Amalia
Industrious
Amara
Eternal
Amaryllis
Fresh
Amaya
Night rain
Amber
Precious gem
Amelia
Work of the Lord
Amelie
Hardworking
Amethyst
Precious purple stone
Amira
Princess
Amy
Beloved
Anabelle
Loving
Anais
Grace
Anastasia
Resurrection
Andrea
Manly, brave
Angel
Messenger of God
Angela
Messenger of God
Angelica
Angelic
Angelina
Angelic
Aniya
Favored by God
Anna
Gracious
Annabelle
Graceful
Annalise
Graced with God's bounty
April
Opening buds of spring
Arabella
Answered prayer
Arden
Passionate
Aria
Air, melody
Ariana
Very holy
Arianna
Holy
Ariel
Lion of God
Arielle
Lion of God
Arwen
Noble maiden
Arya
Noble
Asha
Hope
Ashlyn
Ash tree pool
Aspen
Quaking tree
Astrid
Divine strength
Aubrey
Noble ruler
Audra
Noble strength
Aurora
Dawn
Autumn
Season of harvest
Ava
Life
Aveline
Hazel
Avery
Elf ruler
Aviana
Like a bird
Ayla
Oak tree
Azalea
Dry earth
Baby Girl Names Based On Religion
Names are significant as they reflect parents' hopes, dreams, and aspirations for their child's future, as well as being their identification. This blog post takes you on a delightful journey into the enchanting realm of baby names, featuring a vast selection of options for both genders, such as elegant names for baby girls and charming names for baby boys.
We hope you enjoy reading through the names we've highlighted in this blog article. In order to ensure that the names' meanings are accurate and founded on genuine religious beliefs and understandings, we ask that you contact us if you come across any spelling errors or meanings that don't correspond to your faith. We'd be pleased to make any necessary updates to our database to ensure that it is completely correct and current. Furthermore, if you have any fresh name ideas that aren't already included here, we'd love to hear from you as well. Simply leave a comment below with your name and email address, and we'll try to add them.