… Admin / September 6, 2023 / Photo Credit: AboutUttarakhand.com
Pongal

Pongal, a culinary gem with its origins in the Indian state of Tamil Nadu, is a meal that embodies the spirit of the harvest, thanksgiving, and the links of family. This popular dish is more than simply food; it's a way to honor the gifts of the earth and the power of community. Pongal, named after the Tamil phrase for boiling over, is a dish of newly harvested rice and lentils, cooked with milk and jaggery, that is both simple and fulfilling. During the joyous harvest festival of the same name, when plenty of food, good fortune, and fresh beginnings are celebrated, this meal is traditionally cooked.
A lot of care and attention go into making pongal. The ingredients are mixed and cooked in such a way that the final product has the texture of creamy porridge. Anticipation for the delicious meal to come is heightened by the heady scent of ghee, cashews, and fragrant spices. The welcoming spirit of Tamil Nadu may be tasted in this meal. A feeling of togetherness and community is fostered when families prepare and eat Pongal together. It's a time for celebrating the bounty of the harvest and the ties to one's homeland and culture. Pongal embodies the ideals and traditions of the state's agricultural past with every bite. This dish is an homage to humble beginnings, heartfelt appreciation, and the enduring bonds that can only be formed over a shared meal, and it represents the very essence of Tamil Naduan culture.
Origin: Tamin Nadu, India
Category: Pongal is a Tamil Vegetarian Main Dish which is considered Breakfast
Ingredient: Rice, Moong Dal, Pepper, Ghee are treated as main ingredients for this recipe. Other ingredients used are Cumin, Cashews
Time and Flavour: This recipe takes approx 30-40 mins and the flavour is Savory
Nutritional Information: Pongal contains 170 kcal calories per 100 g serving. This serving contains 4 g of fat, 6 g of protein and 25 g of carbohydrate. The latter is 1 g sugar and 2 g of dietary fiber, the rest is other nutritional component. [ These values may vary based on ingredients used and its quantity ]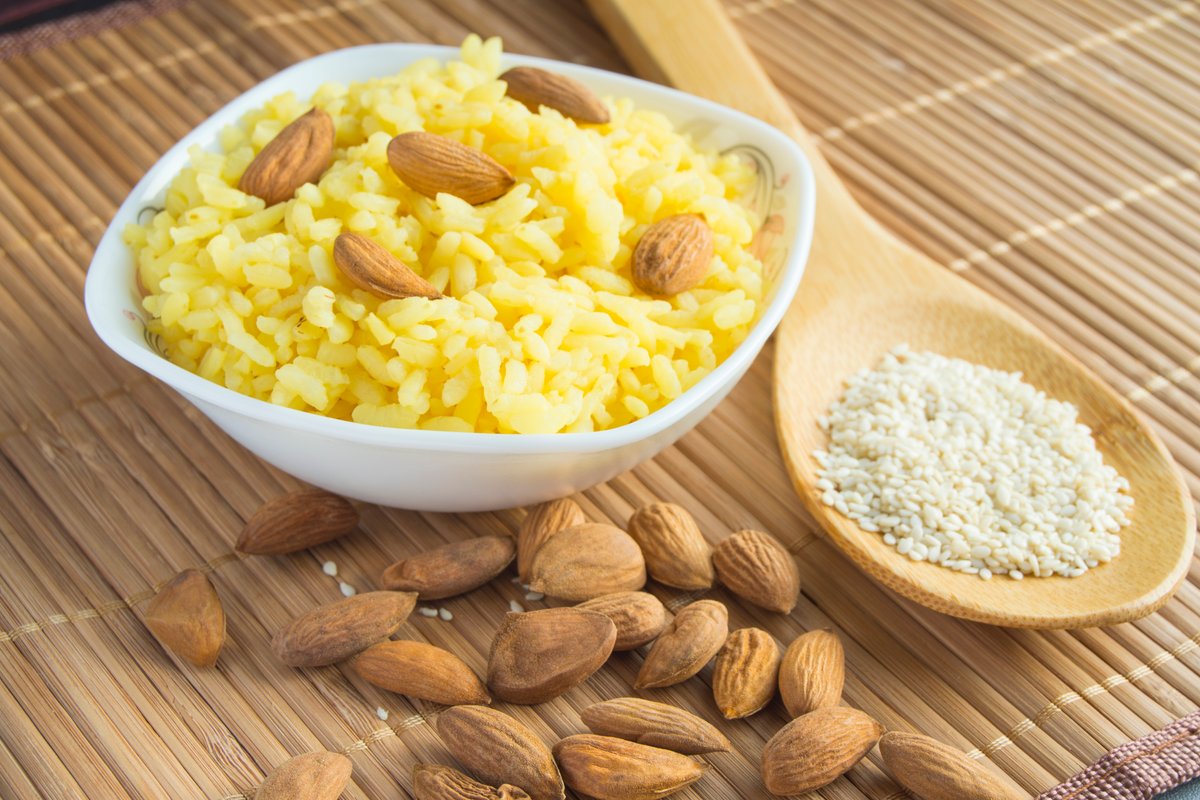 Photo Credit: AboutUttarakhand.com
Details

Pongal is a traditional South Indian dish that carries cultural significance as both a harvest festival and a delightful savory dish. It is often prepared during the festival of the same name, which marks the harvest season in South India. Pongal, the dish, is a rice and lentil-based preparation that offers a comforting and hearty flavor.
To make Pongal, rice and split yellow moong dal (lentils) are cooked together until they soften and meld into a creamy consistency. The dish is flavored with a generous amount of ghee (clarified butter) and seasoned with black peppercorns, cumin seeds, ginger, and curry leaves, giving it a mild and aromatic taste. Cashews and raisins are toasted in ghee and added as a flavorful topping.
There are two main variations of Pongal: Ven Pongal and Chakkara Pongal. Ven Pongal, also known as Khara Pongal, is the savory version described above. Chakkara Pongal, on the other hand, is the sweet version where jaggery, ghee, and cashews create a delightful dessert.
Pongal signifies abundance and togetherness, making it an integral part of South Indian culture. It is often served with coconut chutney and sambar, showcasing the balance of flavors in South Indian cuisine. The simplicity of its ingredients and the warmth of its taste have made Pongal a cherished dish, embodying the essence of South India's rich culinary heritage.
Ingredients

Rice [ चावल ], 1 Cup
→ Washed And Drained.
Split Yellow Lentils [ उच्चली पीली मसूर दाल ], 1/4 Cup
→ Washed And Drained.
Clarified Butter [ घी ], 2-3 Tablespoons

Cashew [ काजू ], 8-10

Black Pepper [ काली मिर्च साबुत ], 1/2 Teaspoon
→ Coarsely Crushed. Adjust To Taste.
Cumin Seeds [ जीरा ], 1/2 Teaspoon

Ginger [ अदरक ], 1/2 Piece
→ Finely Chopped.
Curry Leaves [ कढ़ी पत्ता ], 1/2 Sprigs

Turmeric Powder [ हल्दी चूर्ण ], 1/4 Teaspoon

Asafoetida [ हींग ], 1/4 Teaspoon

Salt [ नमक ], As desired
→ Adjust To Taste.
Water [ पानी ], 3-4 Cups

.
Method for preparing Pongal

Add the rinsed rice and split yellow lentils (moong dal) to a pressure cooker. Pour in 3-4 cups of water and sprinkle with turmeric powder. Cook the rice and lentils until they are tender and well-cooked. Place aside.
Heat 2 tablespoons ghee in a large pan or kadai over medium heat.
Sauté the cashew nuts until they get golden brown. Take out and put aside.
Add cumin seeds and roughly crushed black pepper to the same pan. Cook for a minute, or until aromatic.
Combine the ginger, curry leaves, and asafoetida (hing) in a mixing bowl. Cook for 1 minute more.
Pour in the cooked rice and lentil mixture. Combine thoroughly.
Stir everything together and season with salt to taste.
If the pongal seems dry, add a bit more ghee or water to get the required consistency.
Finally, combine the pongal with the roasted cashew nuts.
Your delectable Pongal is now ready to serve.
Serve with coconut chutney, sambar, or tomato chutney, if desired.
Health Benefits

Energy Source – Pongal has a balanced nutritional profile since it is prepared from rice and lentils.
Fiber-rich – Lentils include fiber, which aids digestion, promotes satiety, and keeps blood sugar levels steady.
Warm and comfortable – Pongal is often consumed as a warm and comfortable food, making it ideal for cold days.
nutritional-Dense – Adding vegetables such as peas or carrots boosts nutritional content by giving vitamins and minerals.
Cultural Connection – Pongal is a popular South Indian dish that is commonly savored during festivals.
Although these components may offer some health benefits, it's crucial to keep in mind that everyone's experience may vary, and they must be consumed in moderation as a part of a balanced diet. If you have any specific health issues or concerns, it's recommended to speak with a healthcare provider.
To Conclude

Pongal, a comforting meal from South India, is the embodiment of humility and thanksgiving in food. Having its origins in the region's agricultural past, this aromatic blend of rice, lentils, and spices is a symbol of the harvest festival and the cyclical pattern of nature's bounty. The very meaning of the word, boiling over, conveys the exuberance that goes into making this dish.
Pongal's warm, satisfying texture and delicious, homey taste is sure to remind you of days gone by. Its preparation, in which individual components come together to form a unified whole, symbolizes the solidarity of the society it strengthens.
Pongal is more than just a tasty treat; it also represents the generous spirit at the heart of South Indian culture. As loved one's share in its deliciousness, the meal becomes a vehicle for expressing appreciation and coming together. Pongal is a dish that, with each bite, shares the region's deep appreciation for nature, the beauty of simplicity, and the joy of shared celebration.