… Admin / September 6, 2023 / Photo Credit: AboutUttarakhand.com
Dodol

Dodol, a famous dessert from Goa's sunny coast, is a luscious composition that expertly combines the culture, history, and ingredients of the area. This traditional dessert is a window into Goan culture and the culinary expertise of its people. The rich, chewy delicacy known as Dodol is the result of hours of loving effort spent cooking together rice flour, jaggery, coconut milk, and ghee. This method, which takes time and care to master, is a tribute to Goa's mild, coastal environment.
The fusion of flavors and textures reflects the many influences that have influenced Goan cooking, including Indian spices, Portuguese sweets, and the coconuts that grow in abundance across the state's landscapes. Flavors of cardamom and nutmeg dance on the tongue with the deep sweetness of jaggery and the silky richness of coconut milk. Dodol is a dish that brings people together, since it is often made for special events or gatherings. Its symbolic value extends well beyond its flavor, representing as it does the passing down of family recipes and cultural traditions from one generation to the next. Dodol, a dish that has a special place in the hearts of Goans, is a multilayered culinary masterpiece that brings people together over shared memories of the past and present of the area.
Origin: Goa, India
Category: Dodol is a Goan Vegetarian Dessert which is considered Dessert
Ingredient: Rice Flour, Coconut Milk, Jaggery, Cashews are treated as main ingredients for this recipe. Other ingredients used are Cashews, Cardamom, Nutmeg, Ghee
Time and Flavour: This recipe takes approx 2-3 hours and the flavour is Rich and Gooey
Nutritional Information: Dodol contains 320 kcal calories per 100 g serving. This serving contains 9 g of fat, 7 g of protein and 53 g of carbohydrate. The latter is 35 g sugar and 15 g of dietary fiber, the rest is other nutritional component. [ These values may vary based on ingredients used and its quantity ]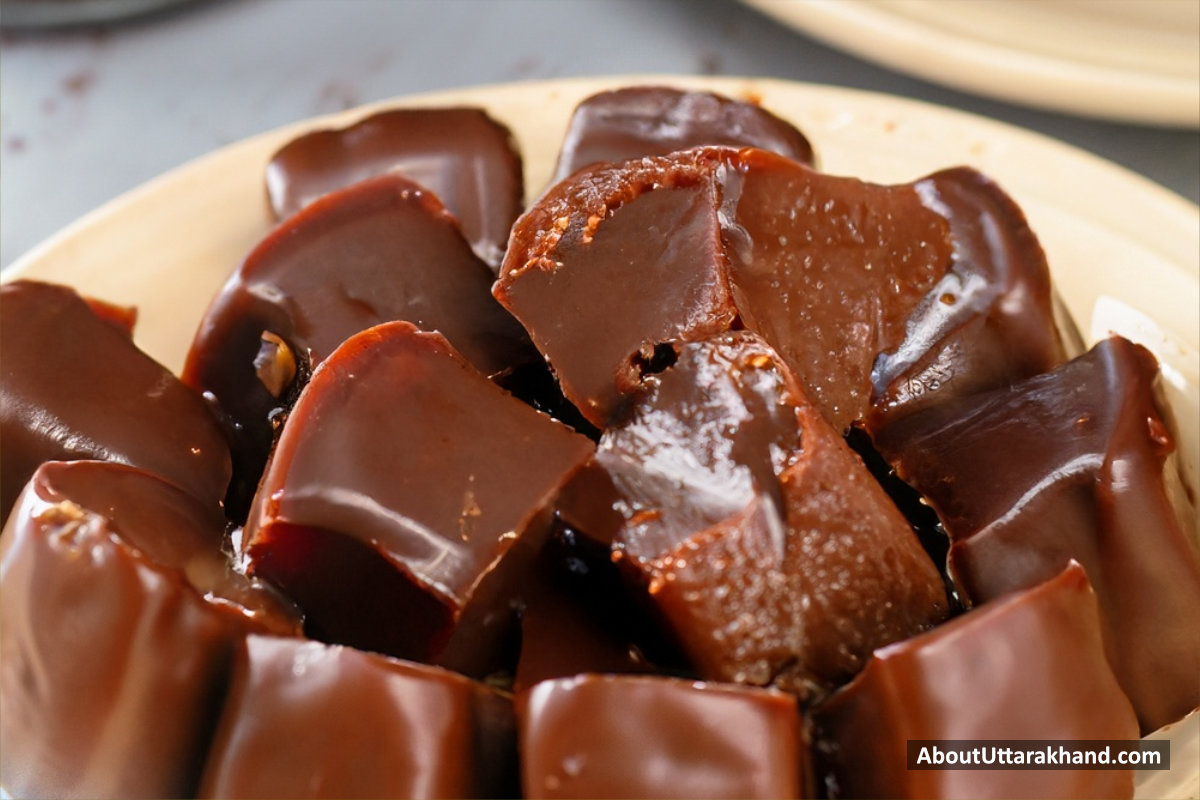 Photo Credit: AboutUttarakhand.com
Details

Dodol is a beloved Goan dessert that embodies the rich flavors and cultural heritage of the region. This sweet treat is a labor of love, known for its dense and chewy texture, as well as its complex blend of ingredients.
The preparation of Dodol involves cooking together grated coconut, jaggery (unrefined cane sugar), rice flour, and sometimes a hint of cardamom. The mixture is stirred continuously over low heat for an extended period, allowing it to thicken and develop its characteristic consistency.
The mixture is then poured into a greased pan and allowed to cool and set. Once cooled, Dodol is cut into squares or rectangles for serving. Its dark brown color, achieved from the jaggery, gives it a distinctive appearance.
Dodol's taste is a delightful fusion of sweet, nutty, and caramel-like flavors, with the coconut and jaggery playing starring roles. The labor-intensive cooking process results in a dessert that's both rich in taste and cultural significance. Dodol is often enjoyed during festivals, weddings, and other special occasions, making it a cherished symbol of Goan traditions and celebrations.
Ingredients

Rice Flour [ चावल का आटा ], 1 Cup

Coconut Water [ नारियल पानी ], 2 Cups
→ Fresh Or Canned.
Jaggery [ गुड ], 1 Cup
→ Grated.
Cashew [ काजू ], 1/2 Cup
→ Chopped.
Clarified Butter [ घी ], 3 Tablespoons

Cardamom Powder [ इलायची चूर्ण ], 1/2 Teaspoon

Nutmeg Powder [ जायफल का पाउडर ], 1/4 Teaspoon

Water [ पानी ], 1/4 Cup

Salt [ नमक ], A pinch

.
Method for preparing Dodol

Mix the rice flour and coconut milk together in a bowl until they are smooth and well mixed. Put this mixture away for now.
Put the chopped sugar and water in a pan with a heavy bottom. Heat the jaggery over medium heat until it all melts.
Pour the sugar water through a strainer to get rid of any dirt.
Heat 1 tablespoon of ghee in the same pan over medium heat.
Add the chopped cashew nuts and cook them until they turn golden brown. Take them out of the pan and put them on a plate.
Add the jaggery water to the same pan and bring it to a slow boil.
Slowly add the mixture of rice flour and coconut milk to the sugar water that is boiling. Keep stirring so that lumps don't form.
Stir the mixture over medium heat until it starts to thicken and pull away from the pan's sides. This could take between 15 and 20 minutes.
Add the rest of the ghee and keep cooking and stirring until the mixture gets thick and shiny.
Add the ground cardamom, ground nutmeg, and a pinch of salt. Blend well.
Add the cashew nuts that have been sautéed and mix them into the dodol.
Keep cooking and stirring the dodol mixture until it gets thick like fudge. It should keep its shape when put on a plate with a spoon.
When the dodol is done, take it off the stove.
Put a little ghee on a flat plate or tray.
Pour the hot dodol mix onto the plate that has been greased and spread it out evenly.
Let the dodol set for a few hours while it cools.
Once the dodol is fully cool and set, use a knife that has been greased to cut it into pieces.
Your tasty Goan Dodol is now ready to be eaten.
Health Benefits

Moderation and Celebration – Dodol is a delicious Goan sweet that is often consumed at festivals and special occasions.
Energy Source – The combination of coconut, jaggery, and rice offers instant energy owing to the carbs and lipids.
Nutritional Value – Coconut and jaggery provide critical elements such as healthy fats and minerals.
Cultural Heritage – Dodol highlights Goan culinary history and customs, relating to regional tastes and practices.
Occasional Indulgence – Dodol is a wonderful and indulgent delicacy that should be consumed in moderation.
Although these components may offer some health benefits, it's crucial to keep in mind that everyone's experience may vary, and they must be consumed in moderation as a part of a balanced diet. If you have any specific health issues or concerns, it's recommended to speak with a healthcare provider.
To Conclude

In conclusion, Dodol emerges as a cherished embodiment of Goan culinary heritage, offering a taste of the past and a glimpse into the region's rich cultural tapestry. This confectionery masterpiece, painstakingly crafted with rice flour, coconut milk, jaggery, and the essence of tradition, weaves a story of love and devotion. Dodol's intricate preparation, a blend of patience and skill, reflects the craftsmanship that defines Goan culture. As each velvety square is savored, it's not just the sweetness that delights the senses, but the echoes of generations preserving recipes and techniques. This sweet treat speaks volumes about Goa's ability to preserve its essence while embracing change – a concept mirrored in its colonial history and diverse influences. Dodol not only gratifies the palate but also serves as a delectable connection to the past, where simplicity and intricacy coexist harmoniously.