… Admin / September 6, 2023 / Photo Credit: AboutUttarakhand.com
Khandvi

The Gujarati dish Khandvi is a masterpiece that displays the fine craftsmanship and meticulous precision that are hallmarks of Gujarati cooking. This meal is highly regarded for its unique taste profile and eye-catching presentation. Khandvi is a delicate dance of expertise and patience, crafted from a basic blend of gram flour (besan) and yogurt. Before being quickly spread into thin layers onto a flat surface, the batter is first baked until smooth. The batter is rolled out into thin, crepe-like sheets, let to cool, and then carefully shaped into the distinctive spirals that characterize Khandvi.
The tempering in Khandvi is what sets it distinct; it's a symphony of spices and condiments that takes the meal to new heights. The aromatic tastes of mustard seeds, sesame seeds, curry leaves, and green chilies are sautéed until fragrant, then rolled into the dough to give the rolls a spicy, savory punch. The rolls are finished with a garnish of finely chopped coriander leaves, which both provides visual contrast and a blast of freshness. Khandvi is a dish that represents the sophistication of Gujarati cuisine due to its delicate texture and wonderful flavor profile. Khandvi, with its complex recipe and enticing flavor, is a delicious example of Gujarat's culinary mastery and an invitation to connoisseurs everywhere to experience the true spirit of a classic regional dish.
Origin: Gujarat, India
Category: Khandvi is a Gujarati Vegetarian Side Dish which is considered Snack
Ingredient: Gram Flour (Besan), Yogurt, Mustard Seeds are treated as main ingredients for this recipe. Other ingredients used are Curry Leaves, Coconut, Coriander
Time and Flavour: This recipe takes approx 30-40 mins and the flavour is Tangy and Spicy
Nutritional Information: Khandvi contains 100 kcal calories per 100 g serving. This serving contains 4 g of fat, 5 g of protein and 15 g of carbohydrate. The latter is 5 g sugar and 1 g of dietary fiber, the rest is other nutritional component. [ These values may vary based on ingredients used and its quantity ]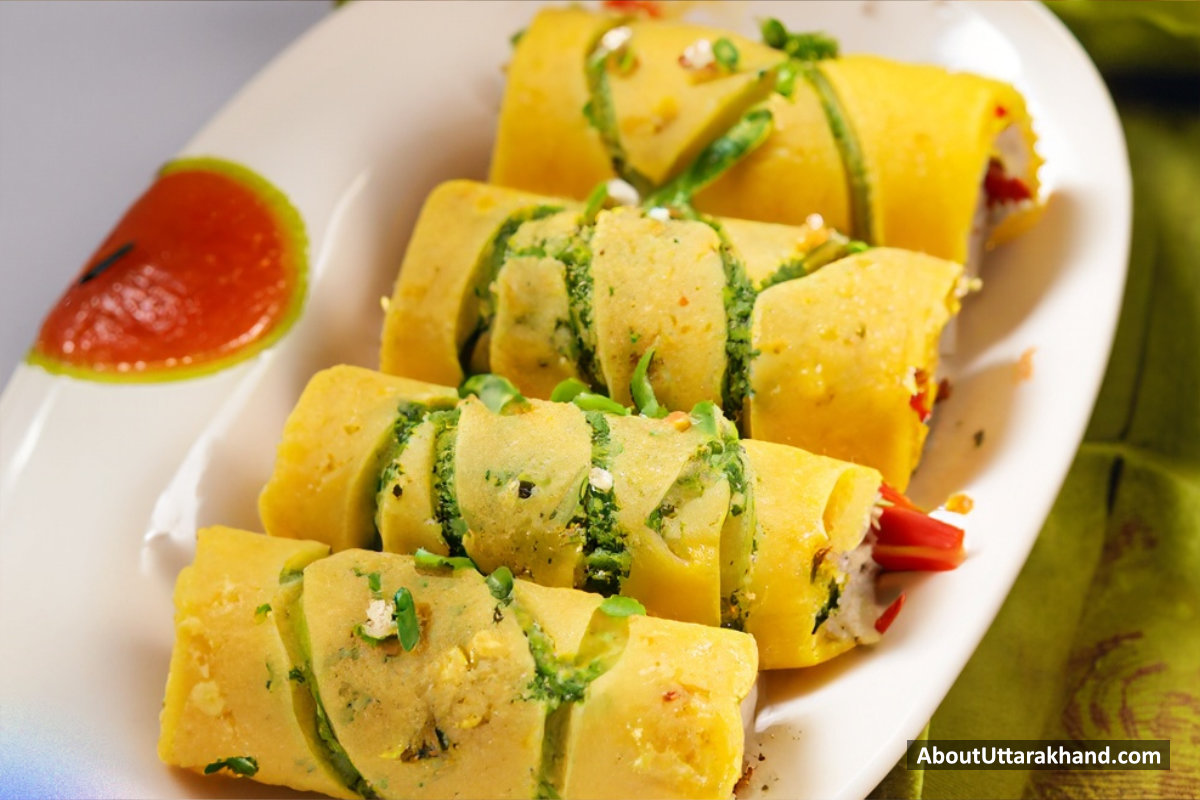 Photo Credit: AboutUttarakhand.com
Details

Delicious Khandvi is a savory rolling snack made from gram flour (besan) that is popular in the Indian state of Gujarat. It's easily identifiable by its signature tiny, bite-sized rolls that are silky smooth to the touch.
Khandvi is made by whipping up a smooth batter of besan, yogurt, and water. The batter is then heated over low heat until it thickens into a consistency similar to custard, while being constantly stirred to prevent lumps. Ginger, green chili paste, and turmeric give the stew a vibrant yellow hue and a spicy kick.
Thin layers of the baked batter are uniformly distributed over greased surfaces. After it has cooled, it is carefully rolled into cylinders. Khandvi is given an additional flavor boost by being rolled in a tempered mixture of mustard seeds, sesame seeds, curry leaves, and occasionally asafoetida.
Chopped cilantro and shredded coconut provide a burst of brightness to the khandvi. The rolls are not only beautiful to look at with their pale yellow color, but they also provide a delightfully melt-in-your-mouth feeling.
This is a popular dish in Gujarat as an appetizer, snack, or side dish. Khandvi is a symbol of Gujarati cuisine because of the skill with which it achieves the ideal texture and balance of tastes.
Ingredients

Gram Flour [ बेसन ], 1/2 Cup

Buttermilk [ छाछ ], 2 Cups

Water [ पानी ], 1/2 Cup

Turmeric Powder [ हल्दी चूर्ण ], 1/4 Teaspoon

Asafoetida [ हींग ], A pinch

Ginger Paste [ अदरक का पेस्ट ], 1/2 Teaspoon

Green Chili Paste [ हरी मिर्च पेस्ट ], 1/2 Teaspoon

Salt [ नमक ], As desired

Mustard Oil [ सरसों का तेल ], 2 Tablespoons
→ To Be Used For Tempering, Use Any Oil Of Your Choice.
Mustard Seeds [ सरसों के बीज ], 1/2 Teaspoon
→ To Be Used For Tempering.
Sesame Seeds [ तिल का बीज ], 1/2 Teaspoon
→ To Be Used For Tempering.
Curry Leaves [ कढ़ी पत्ता ], A few Grams
→ To Be Used For Tempering.
Green Chili [ हरी मिर्च ], 1/2 Piece
→ Slit Lengthwise. To Be Used For Tempering.
Coriander Leaves [ धनिया पत्ता ], A few Grams
→ Chopped, Fresh. To Be Used For Garnishing.
Coconut [ नारियल ], A few Grams
→ Fresh Grated. To Be Used For Tempering And Garnishing.
.
Method for preparing Khandvi

To make a smooth batter, whisk together gram flour, buttermilk, water, turmeric powder, asafoetida, ginger paste, green chili paste, and salt in a mixing bowl.
In a nonstick pan over medium heat, cook the batter mixture, stirring constantly to avoid lumps.
Cook until the mixture thickens and smoothes, becoming a paste.
Apply a thin coating of the mixture to the back of greased plates or a clean, flat surface right away.
Allow the spread to cool and solidify for a few minutes before cutting it into thin strips.
Roll each strip carefully to produce Khandvi rolls.
In a small pan, heat the oil for tempering. Allow the mustard seeds to sputter.
Sprinkle with sesame seeds, curry leaves, and green chilies. Cook for 1 minute.
Drizzle this over the Khandvi rolls.
Garnish with coriander leaves and shredded coconut, if desired.
Serve the delicious Khandvi as a traditional Gujarati snack.
Health Benefits

Low in Fat – Khandvi is a low-fat snack choice suited for people attempting to limit their fat consumption.
Protein-Rich – Chickpea flour (besan) in khandvi contains protein, which promotes muscular health and satiation.
High in Fiber – Khandvi includes besan fiber, which aids digestion, regulates blood sugar levels, and promotes a sensation of fullness.
Vitamins and minerals – Khandvi includes iron, magnesium, and B vitamins from besan, all of which contribute to total nutritional intake.
Probiotic Advantages – The fermentation process used to make khandvi may deliver helpful microorganisms to the stomach, hence improving gut health.
Although these components may offer some health benefits, it's crucial to keep in mind that everyone's experience may vary, and they must be consumed in moderation as a part of a balanced diet. If you have any specific health issues or concerns, it's recommended to speak with a healthcare provider.
To Conclude

Khandvi is a culinary treasure that represents the creativity and skill of Gujarati cooking. Its little, rolled appearance conceals the complex methods used to achieve its luxuriously soft feel. Khandvi's acidic, nutty, and gently spicy taste profile is the result of a careful balance of gram flour, yogurt, mustard seeds, and shredded coconut.
This recipe exemplifies Gujarat's love of healthy, home-cooked meals, and is a monument to the state's culinary ability. Its unusual flavor and healthful properties have won its fans far beyond its native area. 'Khandvi' is a popular Gujarati appetizer or snack that encapsulates the state's hospitable culture and sophisticated flavor profile. In essence, Khandvi is still a classic example of the diversity of Indian cuisine's blend of simplicity and complexity.