… Admin / September 6, 2023 / Photo Credit: AboutUttarakhand.com
Amritsari Fish

Embark on a flavorful journey to the heart of Punjab's culinary delights with the iconic Amritsari Fish. This celebrated dish captures the essence of Amritsar, a city known for its culinary prowess, and offers a tantalizing blend of spices and textures that's nothing short of unforgettable. Amritsari Fish showcases the region's love for exquisite flavors and traditional cooking techniques. Fresh fish fillets, often marinated in a zesty blend of spices like ajwain, red chili powder, and garam masala, are coated in a light and crispy chickpea flour batter. The result is a harmonious fusion of bold flavors and a delicate, golden crunch.
The dish gets its name from the vibrant city of Amritsar, where it originated. Often served with a side of tangy mint chutney and sliced onions, Amritsari Fish encapsulates the spirit of Punjab's culinary heritage, combining the reverence for seafood with a dedication to culinary craftsmanship. Each bite is a sensory delight, as the tender fish contrasts with the crispy exterior, allowing the spices to mingle and dance on your taste buds. Amritsari Fish is more than a dish; it's a representation of the city's rich history, the warmth of its people, and the artistry that defines its cuisine. Prepare to experience the magic of Amritsari Fish, a culinary gem that transcends borders and invites you to savor the authentic flavors of Punjab's vibrant culinary tapestry.
Origin: Punjab, India
Category: Amritsari Fish is a Punjabi Non-veg Main Dish/Snack which is considered Snack/Main Course
Ingredient: Fish, Chickpea Flour, Spices are treated as main ingredients for this recipe. Other ingredients used are Ginger, Garlic, Lemon, Mustard Oil
Time and Flavour: This recipe takes approx 1-2 hours and the flavour is Spicy and Tangy
Nutritional Information: Amritsari Fish contains 282 kcal calories per 100 g serving. This serving contains 16 g of fat, 26 g of protein and 19 g of carbohydrate. The latter is 1 g sugar and 1 g of dietary fiber, the rest is other nutritional component. [ These values may vary based on ingredients used and its quantity ]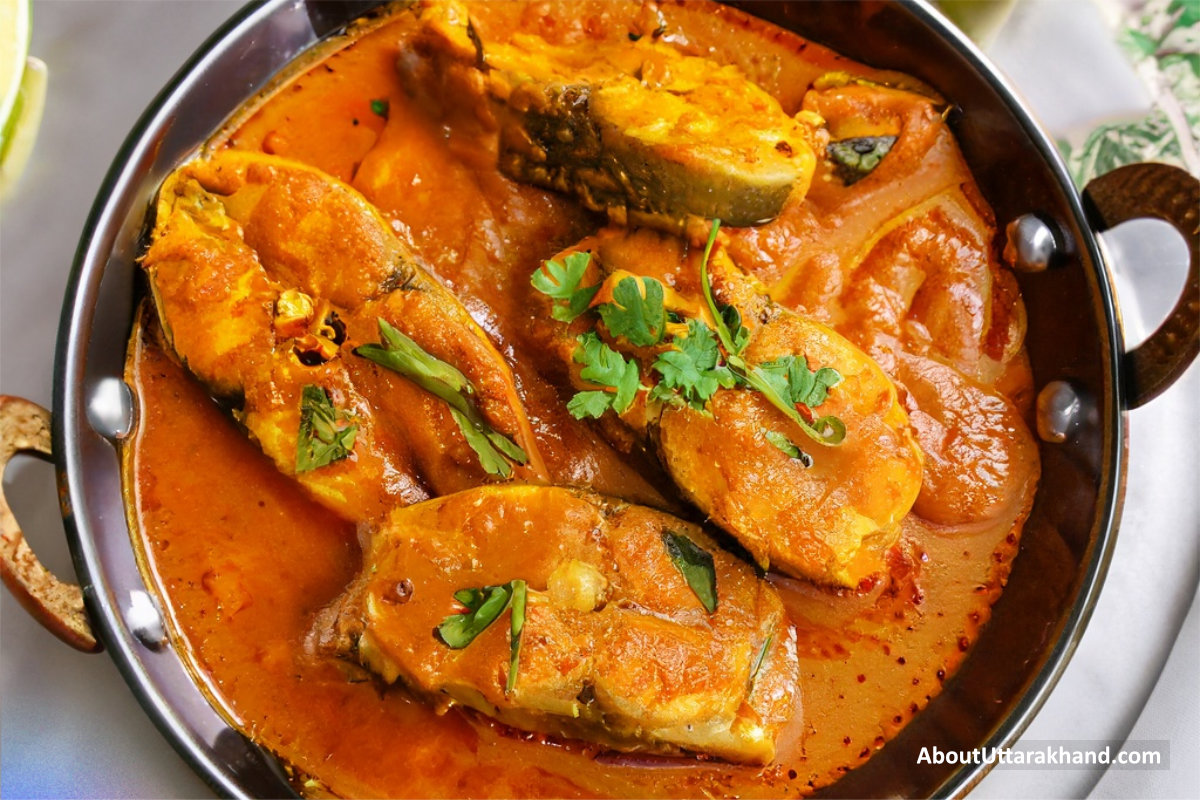 Photo Credit: AboutUttarakhand.com
Details

Amritsari Fish is a famous Punjabi dish renowned for its crispy exterior and succulent, flavorful interior. Hailing from the city of Amritsar, it's a culinary delight that showcases the fusion of Punjabi and Mughlai influences.
The dish features boneless fish fillets, often white fish like cod or sole, marinated in a mixture of yogurt and an array of aromatic spices like red chili powder, turmeric, ginger, garlic, and ajwain (carom seeds). This marinade not only imparts a vibrant hue but also infuses the fish with a tantalizing blend of flavors.
The marinated fish pieces are then coated with a spiced gram flour (chickpea flour) batter, which adds a crispy texture upon frying. The fish is deep-fried until the batter turns golden and crunchy while sealing in the natural juices of the fish.
Amritsari Fish is often served with a side of tangy mint chutney and slices of lemon, enhancing the overall taste experience. The combination of the tender fish within the spiced batter creates a mouthwatering contrast of textures and flavors.
This dish is celebrated not only in Punjab but has gained popularity globally. Its aromatic spices, crispy coating, and tender fish make it a beloved appetizer or snack, reflecting the bold and flavorful essence of Punjabi cuisine.
Ingredients

White Fish Fillets [ सफेद मछली के फिलेट ], 500 Grams
→ Cleaned And Cut Into Pieces.
Gram Flour [ बेसन ], 1 Cup

Red Chili Powder [ लाल मिर्च चूर्ण ], 1 Teaspoon
→ Adjust To Taste.
Turmeric Powder [ हल्दी चूर्ण ], 1/2 Teaspoon

Cumin Seeds [ जीरा ], 1/2 Teaspoon

Hot Spice [ गरम मसाला ], 1/2 Teaspoon

Dried Fenugreek Leaves [ सूखी कसूरी मेथी ], 1 Teaspoon
→ Crushed.
Lemon Juice [ नींबू का रस ], 2 Tablespoons

Ginger-Garlic Paste [ अदरक लहसुन का पेस्ट ], 1 Tablespoon

Salt [ नमक ], As desired
→ Adjust To Taste.
Water [ पानी ], As desired
→ To Be Used For Making Batter.
Mustard Oil [ सरसों का तेल ], As desired
→ To Be Used For Deep Frying, Use Any Oil Of Your Choice.
.
Method for preparing Amritsari Fish

Mix gram flour, red chili powder, turmeric powder, carom seeds, garam masala, crushed kasuri methi, lemon juice, ginger-garlic paste, and salt together in a bowl to make a thick paste.
Add water slowly while whisking to make a smooth batter. The batter needs to be thick enough to cover each piece of fish.
Marinate the chunks of fish in this sauce, making sure that each piece is well covered. Let the fish sit in the marinade for about half an hour.
On medium heat, heat oil for frying in a deep skillet.
When the oil is hot, carefully put the pieces of fish that have been prepared into the hot oil.
Fry the fish pieces on both sides until they are golden brown and crisp. Depending on how thick the pieces are, this could take about 5–6 minutes per side.
With an angled spoon, take out the fried fish pieces and drain the oil on a paper towel.
Your tasty Amritsari Fish is now ready to eat.
Serve hot with lemon wedges or mint sauce.
Health Benefits

Protein – Amritsari fish is prepared from fish and is an excellent source of protein, which is necessary for muscle repair and development.
Omega-3 Fatty Acids – Fish contains omega-3 fatty acids, which are helpful to heart health and cognitive function.
Vitamin D – Fish is a natural source of vitamin D, which is essential for bone health and immunological function.
Culinary Enjoyment – Amritsari fish is a tasty meal that is widely relished as a treat owing to its deep-fried preparation.
Occasional Indulgence – Amritsari fish is a delightful and decadent meal that should be consumed in moderation.
Although these components may offer some health benefits, it's crucial to keep in mind that everyone's experience may vary, and they must be consumed in moderation as a part of a balanced diet. If you have any specific health issues or concerns, it's recommended to speak with a healthcare provider.
To Conclude

Amritsari Fish, a masterpiece of Punjabi cuisine, is a harmonious blend of spices and herbs that has an international following. This classic meal is a fantastic example of how tradition and creativity can harmoniously coexist: juicy fish is coated in a light combination of spices and gram flour, then deep-fried till golden brown. The soft fish within recounts stories of Punjab's relationship to its rivers and riches, while the golden, crispy exterior captures the spirit of Amritsar's bustling street food culture. The generations of cooks who have perfected this dish's recipe have left their mark in every mouthful. Amritsari Fish is a mouthwatering illustration of how regional food can break through barriers and allow people from all over the world to appreciate the tradition and culinary prowess of Punjab. Indulging in this meal is like setting sail on a voyage that unites you with people from all over the world as you experience the common bond of appreciating a culinary masterpiece.